More than just a night out.
Hypnosia
is an exclusive new m
usic events company based in Manchester aimed at an audience looking for more than a standard night out. With an already bustling market for music and nightlife culture in Manchester, the brand needed to offer another dimension to the audience. Acts and venues for Hypnosia are kept secret, with information teased and drip fed through social media channels. Event-goers also have to work together to find and scan symbols around the city to gain access to the tickets - encouraging a

community

spirit and a different element to the usual live music experience.
The visuals for the identity were inspired by the mysterious, dreamlike state of hypnosis - to see beyond the normal boundaries of everyday life, into another world or state of being. 
The project uses the Eye as a central theme, with the logo promoting a view into another realm, as well as compass points to represent the hunt for clues around Manchester.
The visual style and image treatment is designed to evoke the intimacy and raw connection found in nightlife and music events. Close up shots of hands and lips, as well as cropped portraits of the performing artist capture the closeness people experience live, and the grainy textures promote a nostalgic feeling. Contrasted with the surreal colour palette applied to the imagery, this creates the feeling of weird familiarity and mystery we often experience in dream states.
The typography of the project is designed to highlight the duality between the normal and the surreal, contrasting a sans serif with a more mystical serif typeface.
In order to access events, fans of Hypnosia will use an app to track down hidden symbols around Manchester. The Eye will direct them to the area of the next scan, but users will have to find the specific location themselves, as some symbols might not be a straightforward spot. Once all the correct symbols have been found, the user is given a unique code to access the ticket sale.
Information about the artists and venues are teased on social media channels and followers are encouraged to work together to work out who might be performing and where.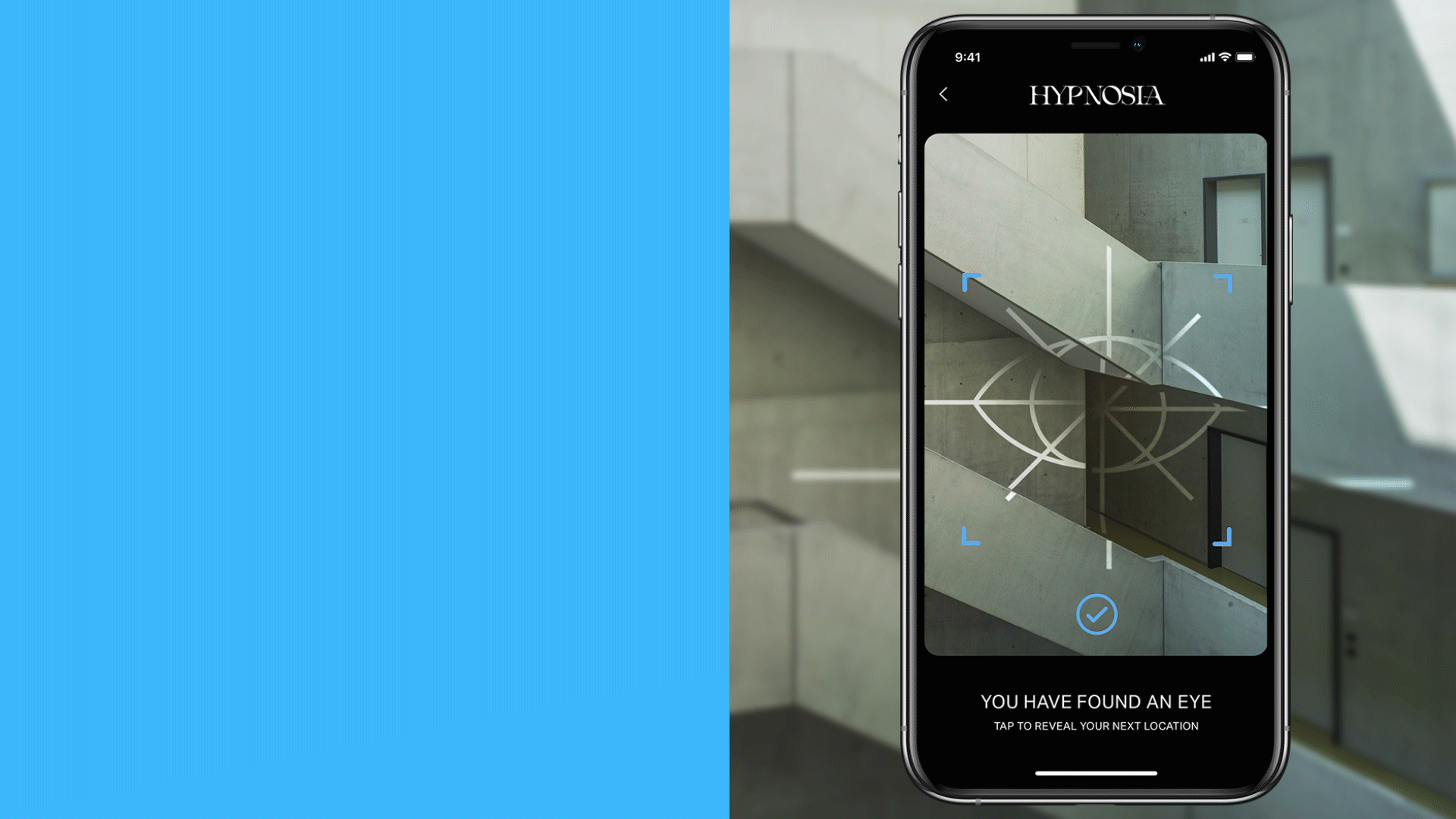 Student project for Shillington